Saab parts come from Saab as well as many suppliers. Recently, I looked into one supplier; what they normally do, more about their product, and how the Saab factory situation has affected them.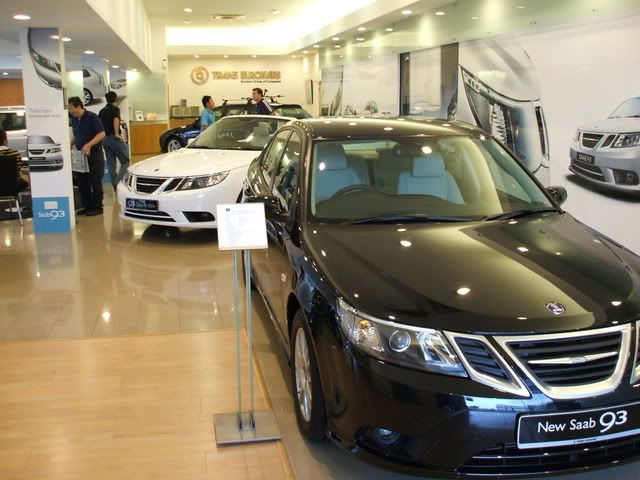 Shiny glass and shiny Saabs
Saab glass is made by Saint-Gobain Sekurit, a large multinational company headquartered in France. Saint-Gobain is the largest European auto glass company and the second largest in the world. There is some Vitro brand glass sourced from the Monterrey, Nuevo León, Mexico area used in the Saab 9-4X.
Auto glass companies work with car manufactures to design glass. Dr.-Ing. Ann-Katrin Glüsing, one of the Communications Managers from Saint-Gobain Sekurit offices in Herzogenrath, Germany provided some insights. She said that "Saint-Gobain Sekurit (Innovative Materials) strongly cooperates with car makers during the development of new products in order to make sure that it provides value to the end user and complies (with) car makers expectations."
There are many considerations that go into auto glass design. Computer generated models and glass samples are used to test prospective designs and predict optical qualities. Glass glazing is also evaluated. The amount of interior heat retained is important to evaluate. The ultraviolet (UV) transmission through glass is also an important parameter as UV light from the sun results in interior plastics fading, hopefully, at a rate deemed acceptable by the car manufacturer. Part of the development process is to determine the stress that glass encounters during assembly and driving. Windshield wipers and how the glass interacts with water is yet another design parameter. Noise transmission is also considered. Anechoic chamber are used to test in-glass antenna performance.
Over the decades, auto glass has evolved from a very constraining flat and even split windshield found in the first Saabs to curved and even wraparound glass. Better optics have resulted in improvements ranging from better night vision from improved clarity to a steeper windshield angle. This, in turn, has had an impact and influenced body shape, headlight design, and in other ways. The ability to have more glass in the car was partly a result of better insulating and reflective properties.
The front windshield of the Saab 9-3 has laminated glass. Lamination is where a plastic interlayer is surrounded by two layers of glass, one on the car's exterior glass surface and one on the car's interior glass surface. This interlayer helps maintain integrity if the glass is shattered and actually reduces the chance of a car occupant from ejecting from the car. Lamination also increases the strength of the glass providing the car additional structural support. The interlayer can also provide ultraviolet protection. The interlayer is also engineered to absorb certain frequencies of sound to reduce higher pitched wind noise or lower pitched engine noise.
Saabs use heat absorbing glass to reduce heat build-up. Heatable glass is used in the rear window using wires, although the technology exists where a metallic coating acts to absorb solar energy as well as heats to de-ice the glass.
Hydrophobic glass where water runs off the glass can be made using a polymer coating applied to the windshield. Electrochromic glass which can be tinted using electric current has been researched by Saint-Gobain Sekurit but is not used in Saabs.
Auto glass have standardized codes. A picture of a rear windshield glass from a Saab 9-3 is shown below.
Rear window of a Saab 9-3
The DOT number is one of the most interesting numbers. One can find out the location of the glass factory by this number.
At the risk of looking like a burglar wanting to break into a car, I looked at several Saabs. It seems that many current generation Saab 9-3s, including my own, has Saint-Gobain Sekurit glass throughout.
Saab 9-3 Sports Sedans (Sports Saloons) of the current generation commonly have windshields made by Saint-Gobain Sekurit's factory in Zary, Poland and are marked DOT618. I saw one 2003 Saab 9-3 with PPG aftermarket glass, presumably to replace a broken windshield.
The rear window and rear most side windows (quarter windows of the rear door) commonly are made by the Saint-Gobain Sekurit factors in Eslöv, Sweden (located near the southern Swedish city Malmö) and are marked DOT57.
The front door and the larger piece of glass of the back seat door commonly are made by the Saint-Gobain Sekurit Deutschland, the German subsidiary, and are marked DOT27. In contrast, I saw a 2005 9-3 convertible that has DOT618 glass on the front and sides, which is Saint-Gobain Sekurit glass from Zary, Poland.
There is an American Standard number marked as "AS" followed by a number, typically 1 or 2. AS1 glass is laminated and has at least 70% light transmission. AS1 glass is used in Saab windshields to satisfy government regulations requiring the use of laminated glass in front windshields. AS2 glass is tempered and has at least 70% light transmission. AS3 glass has less than 70% light transmission.
The M number indicates the model number of a particular glass company. There are no regulations preventing different companies from using the same number.
There is an E code, the letter "E" that is circled followed by a number. This number indicates the European country that has certified the auto glass, which is not necessarily the same as the country where the glass was manufactured. Some E codes include:
E1 Germany
E2 France
E3 Italy
E4 Netherlands
E5 Sweden
E6 Belgium
E7 Hungary
E8 Czech Republic
E9 Spain
E11 United Kingdom
E12 Austria
E17 Finland
E20 Poland
E43 Japan
Some glass have a slash symbol. / represents tempered glass. // represents multiple layered or laminated glass.
Dr.-Ing. Glüsing of Saint-Gobain Sekurit noted that "there are discussion ongoing with Saab Parts about the replacement market." Unspoken is the assumption that Saab will not resume production though thousands of Saab fans hope this assumption turns out to be wrong.
Safelite is the largest aftermarket auto glass company in the United States, not only making glass, but also having retail repair shops. In fact, several insurance companies outsource the call centers answering auto glass repair questions to Safelite which, in turn, suggests their own repair shops. Besides Safelite glass, Safelite also offers customers Pilkington branded glass, a company headquartered in the United Kingdom as well as Carlite glass, which is a major Ford supplier. Some anecdotal reports from BMW and other car forums suggests that enthusiasts prefer BMW glass co-branded with the Saint-Gobain Sekurit brand over BMW Pilkington co-branded glass, citing better resistance to scratches from dust and debris carried by the wind.
The production stop at Saab in Trollhattan has resulted in many thousands of people unemployed, not only Saab employees, but the employees of suppliers and even non-car related local business. Saint-Gobain Sekurit has been among the more fortunate. Even the Saint-Gobain Sekurit factory in Eslöv, Sweden has not been greatly affected. Dr.-Ing. Glüsing notes that "the production of Saab products have been replaced by other products. Additionally, the last year before the production stopped, the volumes were extremely low (in 2010 they build less then 30.000 cars...)."
The beauty of glass is that a lot of thought has been put into it resulting in a nearly transparent product that many just see through it and don't even think about.
Thanks to William Seiberlich of Saint-Gobain North America for assistance. All photos taken by the author and are not to be reproduced outside of Saabworld.net without prior permission